MAJOR EXTINGUISHER BLOW-OUT!
THE NEW FIRECOM SB-1 SINGLE BARREL HAND HELD FIRE EXTINGUISHER RETAIL FOR OVER $30 EACH.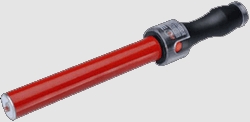 Firecom SB-1 single barrel extinguisher will revolutionize fire suppression and control for anyone who can press a button! The Potassium Dust fire suppression system SB-1 can be used to fight:
Class C (Appliances, and Electrical Equipment Fires)

Class K (Cooking Oils and Grease Fires)
Perfectly suited for small fires that start in the kitchen stove, microwave, toaster oven, roasting oven, Bar-B-Q, computer, lint filter in the clothes dryer, garage, automobile, RV and boat. Can also be stored in all safety kits, glove compartments and trunks of all vehicles. Safe, easy to use, lightweight, causes NO collateral damage, requires NO clean up (does not leave any residue when used) and is ideal for Domestic / Recreational Fire Suppression.
FEATURES:
Easy To Operate

Class C and K Fires

Compact Size - (length 14 inches)

Light Weight - (14 Ounces)

Discharges For 30 Seconds

Replaceable Barrel

Battery Operated (AA)

Wall Mountable

Environmentally Safe

Non Toxic/Non Corrosive

No Mess/No Residue
We have over 3000 units available.