!—This is the title of the page. Put the product name or part number where --> <!—indicated. You can delete this comment. -->



FROST 1188 & 1188-1 AUTO AIR HAND DRYER, HANDS FREE.

Frost 1188 and 1188-1 auto air hand dryer, hands free, chrome plated finish 1188 come in 110 volt and 1188-1 come in 220 volts.

Specifications:

Materials: Cast aluminum in painted or chrome plated finish. Specifications: Approximately 20 second drying time. Voltage: 120 volts, 220 volts (220 volt can be run on 208 volt 50-60 hz). Power consumption: 2200 watts, Sound level: 61-67 db. Brush less 100 watt 3,450 rpm motor.

Features: Sensitive distance of sensor: 4-12" (10-30 cm). Touch free sensor is activated when hands are placed within the set range under spout. There is a .6 sec delay for on and a 2 second delay for off. The power will be cut off automatically in cases of irregular use over 120 seconds, sensor will reset during normal use. Sensor is 100% moisture proof. Wind measure: 161 cfm, (274 m3/h), Wind velocity: (16.5m/sec). Warranty Detail: 5 years

Shipping weight: 6.4 kg

Installation: Insure when mounted that dryer is 12" (30cm) above any fixed or movable objects. For unrestricted access insure bottom of dryer does not exceed 48" (120 cm) from floor. Four threaded mounting anchors and hole location template provided.

Please contact us with any questions you may have at (514) 583-8849 or sales@bestliquidations.com.
BL Part# I0007

<!—Each of the following green items are pictures. Put in as many as you want. --> <!—You may adjust the width to make the pictures smaller but the width MUST --> <!—be less than 751. -->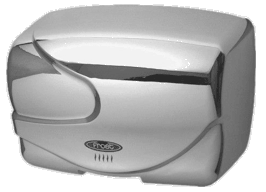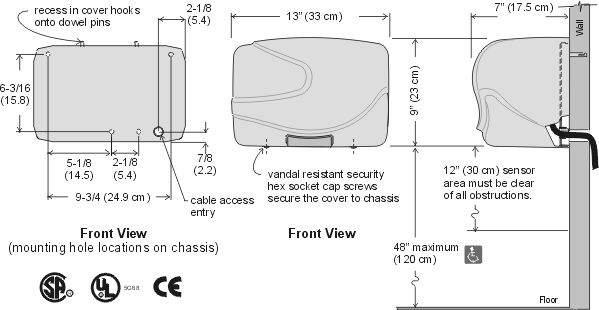 <!—Copy and paste above block to here to add more pictures. -->

Copyright © 2017
BestLiquidations.com All Rights Reserved.